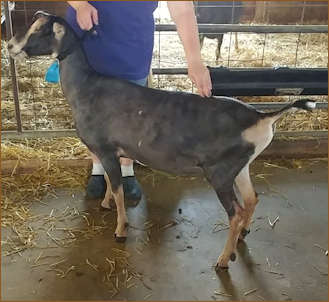 Autumn-Acres Exceptional
L1863632 ~ 02/25/17

SS: High-Tor Landslide Zigzag
SIRE: Kastdemur's Raising The Bar ~ 82 +++
SD: GCH Kastdemur's Britta 4*M ~ 89 EEVE
DS: *B South-Fork AV Hurricane
DAM: CH Autumn-Acres Excel's Escapade
CH Autumn-Acres My Excel ~ 85 ++VV
Exceptional is such a pretty doe! She has a deep, balanced body and excellent general appearance.

We can't wait to see her fresh in 2019!!

Linear Appraisal:
Year
Show Record:
2017
1X GCH Hicksville, OH
2018
ADGA National Show
6th place dry yearling
1st place dry yrlg, RGCH, Ind. State Fair
Several GCH & RGCH wins
| | |
| --- | --- |
| Senior Kid ~ 2017 | |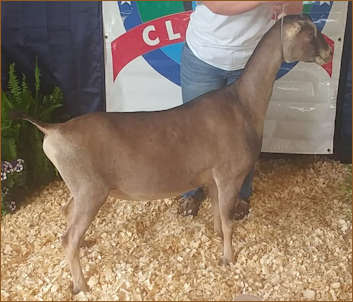 Autumn-Acres Tara's Tribute
AL1850111 ~ 03/01/17
Dark chamoisee with lighter trim

SS: Pine-Springs Camouflage
SIRE: Autumn-Acres Ace of Spades
SD: CH Autumn-Acres Tara's Teal
DS: Willow Run WRP Sirius Black
DAM: CH Autumn-Acres Tressa's Tara ~ 92 EVEE
DD: CH Autumn-Acres Talon's Tressa ~ 92 EVEE
Tribute is the sweetest doe on the farm. She is extremely correct from her long, level frame to her excellent feet and legs.

Linear Appraisal:
Year
Show Record:
2017
1X RGCH
2018
GCH, Banks of the Wabash Show
Also made the cut at Nationals but was so afraid of the fan that she would not cooperate in the ring or we feel she would have placed much higher!
| | |
| --- | --- |
| Intermediate Kid ~ 2017 | |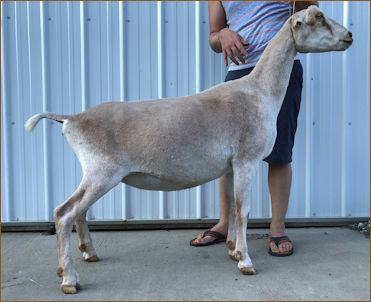 Autumn-Acres Tranquility (Quill)
L1850111 ~ 03/01/17
Off white

SS: Pine-Springs Camouflage
SIRE: Autumn-Acres Ace of Spades
SD: CH Autumn-Acres Tara's Teal
DS: Autumn-Acres Grand Venture
DAM: Autumn-Acres Tilly's Tears
DD: CH Autumn-Acres Tawny's Tilly ~ 89 VEVE
Quill has matured into a pretty yearling! She is deep bodied, smoothly blended and wide throughout. She has a high arched escutcheon with perfect teat placement. We can't wait to see her fresh!

Linear Appraisal:
Year
Show Record:
2017
1X RGCH Montpelier, OH
2018
RGCH, Fulton, OH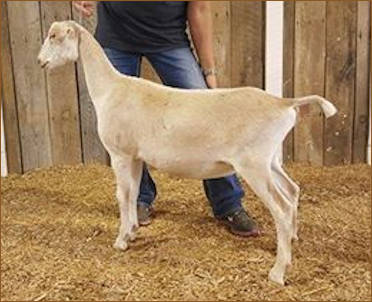 2017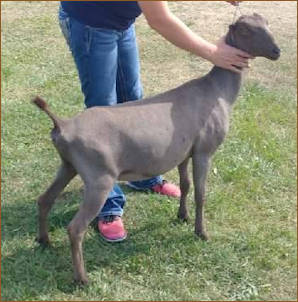 Autumn-Acres Turquoise
L1850111 ~ 03/01/17
Chocolate

SS: Pine-Springs Camouflage
SIRE: Autumn-Acres Ace of Spades
SD: CH Autumn-Acres Tara's Teal
DS: *B South-Fork AV Hurricane
DAM: CH Autumn-Acres Tara's Teal
DD: CH Autumn-Acres Tressa's Tara ~ 92 EVEE
Turquoise is the most extreme of our young does. She is very long, tall, sharp and angular. She has taken awhile to fill out and deepen because of her long frame, but since the end of summer has really come into herself! We feel she has been worth the wait to see what her future holds!

Linear Appraisal:
Year
Show Record:
2017
1X RGCH Hicksville, IN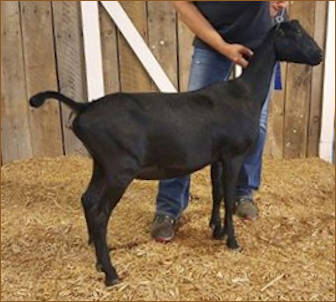 Autumn-Acres Tacori's Treble
L1850009 ~ 03/04/17
Black
SS: Pine-Springs Black Magic
SIRE: Autumn-Acres Going For Gold
SD: Autumn-Acres HT Tempo
DS: Autumn-Acres Grand Venture
DAM: Autumn-Acres Tempra's Tacori
DD: CH Autumn-Acres TM Tandra
Treble is one of the most stylish does we have! She has a sleek dairy frame and long snake-like neck. her promise of a pretty udder is a given!

Watch for this doe in 2019!!

Linear Appraisal:
Year
Show Record:
2018
GCH, Udder Side Show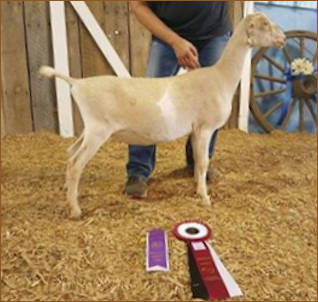 Autumn-Acres Scape's Sorbet
L1863629 ~ 04/20/17
Lt. tan with white markings
SS: High-Tor Landslide Zigzag
SIRE: Kastdemur's Raising the Bar ~ 82 +++
SD: GCH Kastdemur's Brita 4*M ~ 89 EEVE
DS: *B Kastdemur's Cutting Edge
DAM: Autumn-Acres Sun Scape
DD: CH Autumn-Acres Sunny Day ~ 92 EEEE
Sorbet was born a keeper! She is true to her maternal line, with her long level topline and flat square rump. She excels in strength of bone and has filled out well for her age.

Linear Appraisal:
Year
Show Record:
2017
1X GCH
1X BJDIS Montpelier, OH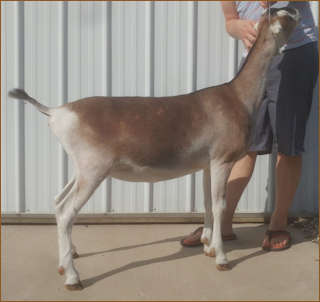 Autumn-Acres Mia's Miss Miray
AL1931482 ~ 02/19/18

SS: Pine-Springs Camouflage
SIRE: Autumn-Acres Ace of Spades
SD: CH Autumn-Acres Tara's Teal
DS: *B Kastdemur's Cyclone ~ 89 VEE
DAM: Autumn-Acres Miss Mia ~ 90 VEEE
DD: GCH Autumn-Acres Madison Ave. 2*M ~ 89 VEEE
Linear Appraisal:
Year
Show Record: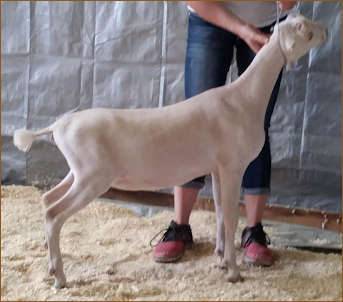 Autumn-Acres SS Wynter
L1931354 ~ 02/24/18

SS: ++*B SG Kastdemur's Sting
SIRE: +*B SGCH Kastdemur's SA Stingray ~ 90 VEE
SD: SGCH Kastdemur's Avena 3*M ~ 91 EEEE
2012 National Champion
DS: *B Kastdemur's Cutting Edge
DAM: Autumn-Acres Sun Scape
DD: CH Autumn-Acres Sunny Day ~ 92 EEEE
Wynter has taken the best from both her dam and her sire. She is a sharp, upstanding doe with excellent feet and legs. She has more bone that her sire and is more dairy than her dam. We feel this kid brings it all together and is one of our personal picks of the kid crop. She was our first kid out this spring and was fast to get her dry leg.

Linear Appraisal:
Year
Show Record:
2018
GCH, June Udder Side Dairy Goat Show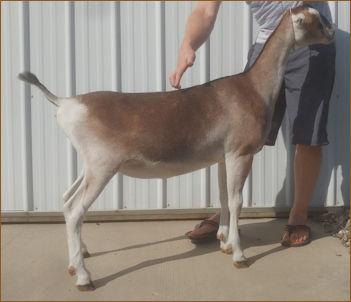 Autumn-Acres Meadow's Maisey
AL1931290 ~ 02/24/18

SS: Pine-Springs Camouflage
SIRE: Autumn-Acres Ace of Spades
SD: CH Autumn-Acres Tara's Teal
DS: Autumn-Acres Rise & Shine
DAM: Autumn-Acres Miss Meadow
DD: GCH Autumn-Acres Miss Marmalade 3*M ~ 92 EEEE
Maisey is a big kid! She has a lot of bone and has a long, level frame. Her feet and legs are strong and she has a powerful image!

Linear Appraisal:
Year
Show Record: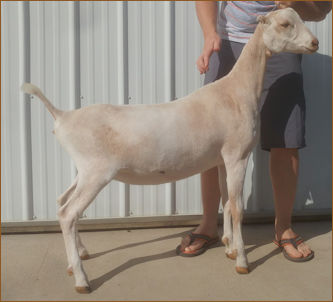 Autumn-Acres Tell Me About It (Teller)
AL1947955 ~ 02/24/18

SS: ++*B SG Kastdemur's Sting
SIRE: +*B SGCH Kastdemur's SA Stingray ~ 90 VEE
SD: SGCH Kastdemur's Avena 3*M ~ 91 EEEE
2012 National Champion
DS: Altrece Divine's B Design
DAM: CH Autumn-Acres Strip Tease ~ 88 VVVV
DD: Autumn-Acres Surri Up ~ 91 EEEE
Teller is a sharp, clean, angular doe kid. She oozes of dairyness, with her open ribbing and clean lines. We love her long level frame and pretty rump. We kept her litter brother, Trigger, as our Jr. Herd Sire. We feel these kids will leave a good imprint on our breeding program.

Linear Appraisal:
Year
Show Record:
2018
GCH, Fulton, OH (1st show out)

Autumn-Acres Essential
AL1948812 ~ 02/28/18

SS: Pine-Springs Black Magic
SIRE: Autumn-Acres Going For Gold
SD: Autumn-Acres HT Tempo
DS: Autumn-Acres Journey
DAM: Autumn-Acres Elusive
DD: CH Autumn-Acres Strip Tease ~ 88 VVVV
Essential is a wide, deep-bodied kid. She is powerful and has exceptional strength of bone. Her escutcheon is so high and arched, we feel she shows great promise of a beautiful udder with excellent teat placement!!

Watch for her in 2019! We feel she will be a stunning yearling milker!

Linear Appraisal:
Year
Show Record: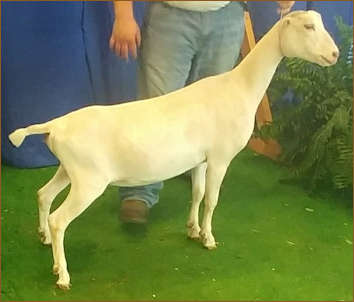 Autumn-Acres Simplicity
AL1931353 ~ 03/01/18

SS: ++*B SG Kastdemur's Sting
SIRE: +*B SGCH Kastdemur's SA Stingray ~ 90 VEE
SD: SGCH Kastdemur's Avena 3*M ~ 91 EEEE
2012 National Champion
DS: *B South-Fork AV Hurricane
DAM: Autumn-Acres Under My Spell
DD: CH Autumn-Acres Shine On ~ 90 EEVE
Linear Appraisal:
Year
Show Record: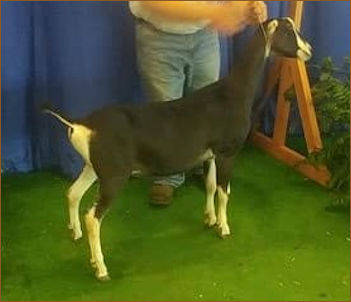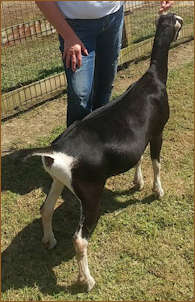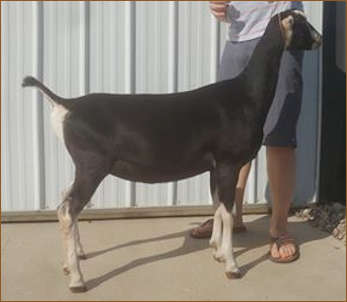 Autumn-Acres Tempting Harper
L1931355 ~ 03/01/18

SS: ++*B SG Kastdemur's Sting
SIRE: +*B SGCH Kastdemur's SA Stingray ~ 90 VEE
SD: SGCH Kastdemur's Avena 3*M ~ 91 EEEE
2012 National Champion
DS: Willow Run Sirius Black
DAM: CH Autumn-Acres My Temptation
DD: CH Autumn-Acres Mia's Medley ~ 89 VVVV
Harper is a beautiful doe kid. I felt she was special ever since her birth. She is a correct kid that is sharp, dairy and upstanding. She has had an excellent show record and we are excited to see her mature.

Linear Appraisal:
Year
Show Record:
2018
GCH, Indiana State Fair
BJDIS, Lima, OH show
Several 1st & 2nd places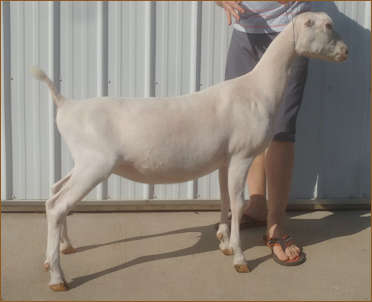 Autumn-Acres PS Eseme
AL1931481 ~ 03/10/18

SS: ++*B SG Kastdemur's Sting
SIRE: +*B SGCH Kastdemur's SA Stingray ~ 90 VEE
SD: SGCH Kastdemur's Avena 3*M ~ 91 EEEE
2012 National Champion
DS: *B Kastdemur's Cutting Edge
DAM: Autumn-Acres Georgia Peach
DD: CH R' Barefoot Acres AP Georgia ~ 91 EEVE
Beautiful doe kids out of our beloved Peach, these two doe kids are blessings after lowing Peach during kidding this spring. They are the image of their dam with their powerful strong frames. They have impressive toplines and rumps and we feel will be large does like their dam.

Linear Appraisal:
Year
Show Record:

Autumn-Acres PS Ever Lasting
AL1931480 ~ 03/10/18

SS: ++*B SG Kastdemur's Sting
SIRE: +*B SGCH Kastdemur's SA Stingray ~ 90 VEE
SD: SGCH Kastdemur's Avena 3*M ~ 91 EEEE
2012 National Champion
DS: *B Kastdemur's Cutting Edge
DAM: Autumn-Acres Georgia Peach
DD: CH R' Barefoot Acres AP Georgia ~ 91 EEVE
Beautiful doe kids out of our beloved Peach, these two doe kids are blessings after lowing Peach during kidding this spring. They are the image of their dam with their powerful strong frames. They have impressive toplines and rumps and we feel will be large does like their dam.

Linear Appraisal:
Year
Show Record: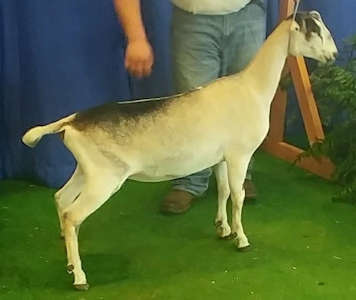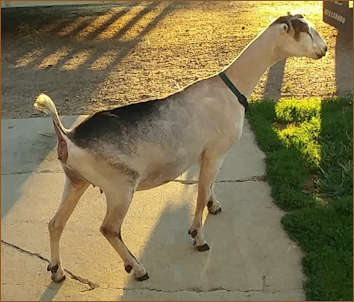 Autumn-Acres Escapade's Egypt
L1931287 ~ 03/17/18

SS: ++*B SG Kastdemur's Sting
SIRE: +*B SGCH Kastdemur's SA Stingray ~ 90 VEE
SD: SGCH Kastdemur's Avena 3*M ~ 91 EEEE
2012 National Champion
DS: *B South-Fork AV Hurricane
DAM: CH Autumn-Acres Excel's Escapade
DD: CH Autumn-Acres My Excel ~ 85 ++VV
Egypt was slow to grow at first, but has caught up fast! She is a smaller version of her dam and sister, Eclair. She is sharp, angular and stands on excellent feet and legs. Her topline is long and level and best of all has her dam's color pattern!!

Linear Appraisal:
Year
Show Record:

Autumn-Acres Flirtatious
AL1931349 ~ 03/20/18

SS: ++*B SG Kastdemur's Sting
SIRE: +*B SGCH Kastdemur's SA Stingray ~ 90 VEE
SD: SGCH Kastdemur's Avena 3*M ~ 91 EEEE
2012 National Champion
DS: *B South-Fork AV Hurricane
DAM: CH Autumn-Acres Tressa's Felicity
DD: CH Autumn-Acres Talon's Tressa ~ 92 EVEE
2004 National Jr. Champion Recorded Grade
Flirt was born on the smaller size. She reminds us so much of her dam...from the perfect teat placement to her well balanced frame. She has grown well this summer and we feel she will be ready for the ring in 2019!!

Linear Appraisal:
Year
Show Record:

Autumn-Acres Shine's Sinclair
L1948818 ~ 04/17/18

SS: Pine-Springs Camouflage
SIRE: Autumn-Acres Ace of Spades
SD: CH Autumn-Acres Tara's Teal
DS: CH Autumn-Acres Medaillon ~ 89 VEE
DAM: CH Autumn-Acres Shine On ~ 90 EEVE
DD: CH Autumn-Acres Sunny Day ~ 92 EEEE
Linear Appraisal:
Year
Show Record:

~ Recorded Grades ~
Autumn-Acres Georgia's Gemini
E1931288 ~ 02/24/18

SS: ++*B SG Kastdemur's Sting
SIRE: +*B SGCH Kastdemur's SA Stingray ~ 90 VEE
SD: SGCH Kastdemur's Avena 3*M ~ 91 EEEE
2012 National Champion
DS: *B Olentangy F. Apache Warrior
DAM: CH R' Barefoot Acres AP Georgia ~ 91 EEVE
DD: R' Barefoot Acres Prussia
Gemini is an extreme kid...very tall and long with excellent feet and legs. She is a kid that will take awhile to fill out but will be well worth the wait!

Linear Appraisal:
Year
Show Record:

Autumn-Acres Eloquence
E1931348 ~ 04/01/18

SS: Pine-Springs Camouflage
SIRE: Autumn-Acres Ace of Spades
SD: CH Autumn-Acres Tara's Teal
DS: +*B South-Fork AV Hurricane
DAM: Autumn-Acres Electrifying
DD: Grow 'Em Short Acres Eclectic
Linear Appraisal:
Year
Show Record: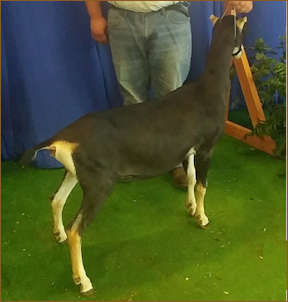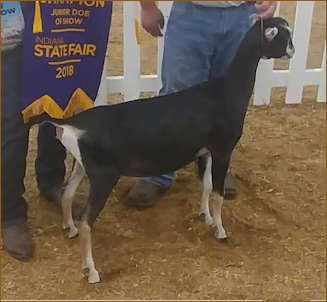 Autumn-Acres Venice's Valorie
E1948813 ~ 04/23/18

SS: Pine-Springs Camouflage
SIRE: Autumn-Acres Ace of Spades
SD: CH Autumn-Acres Tara's Teal
DS: Windrush Farms Blizzard Manny
DAM: CH Autumn-Acres V's Venice
DD: CH Autumn-Acres V's Velocity ~ 90 VEEE
Valorie is a pretty doe kid! She is a dairy doe, open ribbed, lots of style and general appearance. She resembles her dam in so many ways!

Linear Appraisal:
Year
Show Record:
2018
GCH & BJDIS Indiana State Fair (1st show out-jr kid)