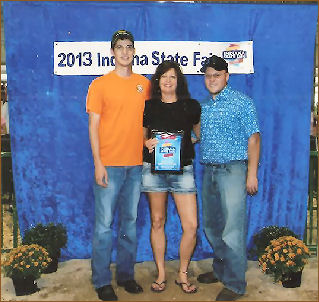 2013 Indiana State Fair
~ For Sale ~



For Sale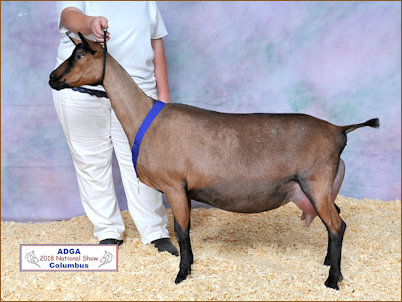 SGCH Haycreeks Kane Stradivaria 6*M ~ 89 VEEE
2018 ADGA National Champion Oberhasli
Dam of Savage
Haycreek Uptown Savage
AB1885401 ~ 04/03/17

SS: +*B Tutlelu Attention ~ 86 VEV
SIRE: Haycreek Uptown Funk
SD: SGCH Haycreeks Fractal Flicker ~ 91 VEEE
DS: +*B SG California Special Kane
DAM: SGCH Haycreeks Kane Stradivaria 6*M ~ 89 VEEE
2018 ADGA National Champion
DD: SGCH Haycreeks Solution Shay 5*M ~ 90 EEVE
We are very excited about our new Junior Herdsire, Savage. He is a beautiful dark red color, wide throughout with excellent feet and legs. His dam is very impressive with all her size and length. her mammary system is outstanding. We feel he will bring some outstanding things to our breeding program and can't thank Morgan and Keith enough for sharing him with us!`

Linear Appraisal:
Year
Show Record:
Photo of Stradivaria courtesy of Haycreek Farms


For Sale ~ Price $700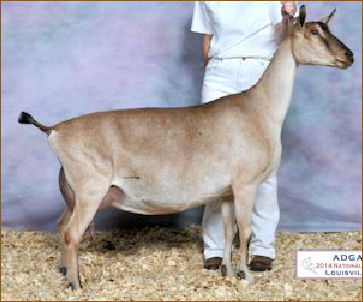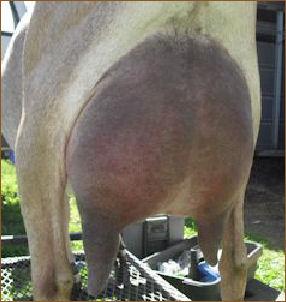 GCH PJ-Bailey's Charmer Aglimmer, dam of PJ-Bailey's Driver Aragon ~ Photo courtesy of PJ-Baileys Dairy Goats
*B PJ-Baileys' Driver Aragon
AA1733930 ~ 02/18/15

SS: +*B SG Angel-Prairie Brutus Realthing AI ~ 91 EEV
SIRE: +*B GCH Cherry Glen Realthing Driver
SD: Dkidd Dinah' Dianna 7*M
DS: +*B GCH Windrush Farms IRS Charmer ~ 89 VEV
DAM: GCH PJ-Baileys' Charmer Aglimmer 6*M ~ 91 EEVE
DD: SGCH PJ-Baileys' Sulten Arabella 5*M ~ 91 VEEE
Aragon is one of the most impressive bucks on the farm. He is very correct in every aspect. He is the type of buck that stands out with his rich color and style. His kids have shown very well and his first two milking daughters are very nice and have topped their classes this year!

Aragon sires great general appearance, improved mammary especially in the udder attachments and outstanding feet and legs!

Linear Appraisal:
Year
Show Record: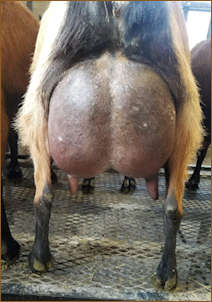 One of our Aragon daughters


Be sure to check out our Kidding Schedule!!
~ Sales Policy ~
We will do our best to accommodate your reservations or to fulfill your needs. In other words, we will be honest about any animal, detailing both strengths and weaknesses. A $100 non-refundable deposit will hold the kid of your choice prior to birth, and a $100 non-refundable deposit will hold any kid already born. If the kid of your choice isn't born, we will gladly refund your deposit or put it toward another kid. If the kid is already born, the $100 deposit will hold it for 4 weeks until transportation arrangements can be made.
We will ship nationwide, preferably through American Airlines Cargo or Northwest Cargo, which I've had GREAT experiences with, to all approved homes. An approved home agrees to have at least one other goat as a companion and provide the proper care, nutrition and love to their new addition.
All animals must be paid in full before leaving the farm. Additional costs include any necessary testing for transportation, as well as the cost of transportation, kennel and health certificate.
Please realize that breeding is not an exact science, and although we certainly strive for excellence, we cannot guarantee that your purchase will become a champion. Genetics, as well as management, play a huge role in how an animal turns out. That said, we do want you to b happy with your Autumn-Acres goat and we will work with you to insure that point. We guarantee the health of the animal at the time that it leaves the farm but we cannot guarantee health beyond that, as we have no control over the management of the animal once it leaves. We also guarantee the goat to be in good reproductive health. If for some reason your goat is unable to reproduce, we will gladly replace that animal (with a written letter from the vet stating the absence of fertility).


CH Autumn Acres Miss Maple, 2010 National Grand Champion

Home

LaMancha Senior Does

LaMancha Yearlings

LaMancha Junior Does
Alpine Senior Does

Alpine Junior Does

Oberhasli Senior Does

Oberhasli Junior Does
Herdsires

Reference Does

Reference Bucks

Kidding Chart

For Sale

Contact Us
All information and photos on this site are © Autumn-Acres Dairy Goats 2015-2018
Website designed and maintained by Sunflower Web Design
Webhosting provided by Firebug Studios
Page last updated 10/29/2018