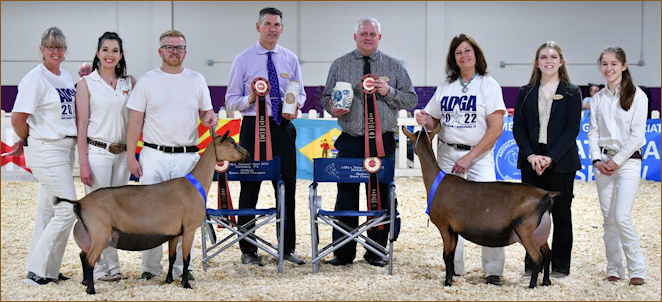 CH Autumn-Acres Cover Girl, 2022 National Champion Oberhasli
~Oberhasli Senior Does~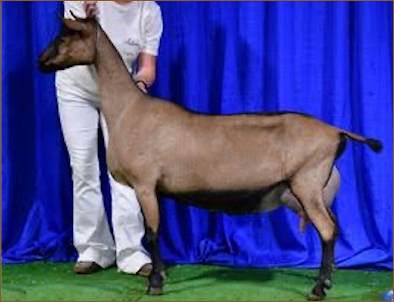 CH Autumn-Acres KVB Sweet Ruby
AB1848698 ~ 03/04/17
Bay with correct black markings
SS: +*B Haycreeks Frost Skyfall
SIRE: Deidrago SKFL Nakomas Kocoum
SD: CH Deidrago JM Mochas Nakoma ~ 87 VVVV
DS *B Loughlin's Sinfully Red
DAM: CH Loughlin's Bacardi
DD: SGCH Udderly-Crazy A Southern Belle 9*M ~ 88 +EVE
We loved Ruby as a kid and dry yearling but feel she is even more special as a milker. We couldn't be happier with this doe. Ruby is long, tall and has an amazing udder. She has excellent attachment both fore and rear with perfect teat placement.

Ruby is the kind of doe you love to own. She shows well, reproduces herself or better and milks like a dream. She is what we are striving for in our breeding program! She was 1st place 4 year old and part of our winning group classes at ADGA Nationals this year.

This doe is amazing and was 1st place 5 year old at Nationals and part of most of our winning group classes!!

Linear Appraisal:
Year
Show Record:
2018
7X GCH Jr. Doe, 1X RGCH Jr. Doe
4X Best Jr. Doe in Show
GCH Jr. Doe, NAILE
2019
9X GCH Sr. Doe, 1X RGCH Sr. Doe
5X Best of Breed
2020
2X BOB
2021
ADGA National Show - 1st place 4 year old
1st 4 year old, Sr. & GCH AOP - NAILE
2022
3X 1st, 2X RGCH

ADGA National Show - 1st place 5 year old. 1st Udder
Part of 1st place Best 3, Dairy Herd and Dam & Dtr

ADGA National Show - 4 year old - 2021

Intermediate Kid ~ 2017

Dry yearling ~ 2018

Two year old ~ 2019

Three year old ~ 2020

NAILE ~ 2021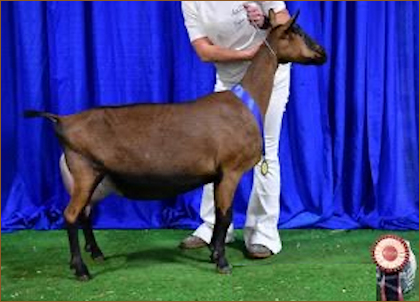 CH Autumn-Acres Cover Girl
AB1931286 ~ 02/20/18
Bay with correct black markings
SS: Haycreeks Uptown Funk
SIRE: Haycreeks Uptown Savage
SD: SGCH Haycreeks Kane Stradivaria 6*M ~ 89 VEEE
2018 National Champion
DS *B Haycreeks Frost Slingshot ~ 85 VV+
DAM: CH Hoosier Harvest Glitterlikegold
DD: Haycreeks Sussex Glimmer ~ 86 +VVE
Girl freshened with a pretty udder and has matured into a pretty milker. She finished at her first show out going GCH in both rings. We look forward to watching this doe age. She is a special one!!

Girl bloomed as a 2nd freshener! She was named Oberhasli Senior Grand Champion at Nationals and part of our Best 3 Females. We are so proud of this doe!

This girl exhibits the true meaning of general appearch...she is so level and long! Girl lived up to the challenge being name National Champion once again at this year's show in Harrisburg!

Linear Appraisal:
Year
Show Record:
2019
2X GCH, 3X RGCH Jr. Doe
2020
2X GCH
2021
ADGA National Show -
1st place 3 year old
Senior Grand Champion
2022
2X 1st, 1X BOB
ADGA National Show -1st place 4 year old
Senior Grand Champion
Part of 1st place Best 3, Sr. Get & Dairy Herd

ADGA National Show ` 3 year old - Senior Grand Champion - 2021

Senior Kid ~ 2019

Two Year Old ~ 2020


2021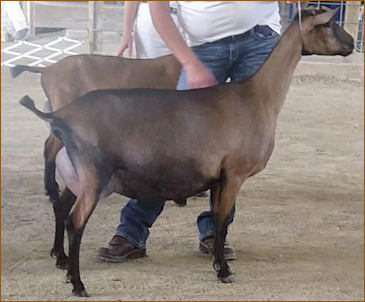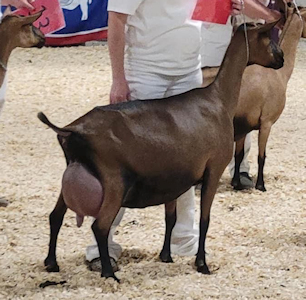 CH Autumn-Acres Acapella
AB1948809 ~ 03/07/18
Bay with correct black markings
SS: Haycreeks Uptown Funk
SIRE: Haycreeks Uptown Savage
SD: SGCH Haycreeks Kane Stradivaria 6*M ~ 89 VEEE
2018 National Champion
DS Haycreeks Brownie Rifle
DAM: Autumn-Acres Cooper Penny
DD: Hoosier Harvest PKV Paisley
Acapella freshened with a beautiful capacious mammary system. She has a long fore udder and high, wide rear. We are happy with this doe and all she has brought to our breeding program. Acapella was GCH in both rings her first show out finishing her championship. We feel she has as bright future!

Pella has two beautiful daughters in our herd. She has a strong maternal line! Acapella was fourth place 4 year old at this year's Nationals. She is a prize with all her accomplishments and attributes she brings to the table!

Linear Appraisal:
Year
Show Record:
2019
5X GCH Jr. Doe, 1X RGCH Jr. Doe
2X BJDIS, Darke County Agri Society
2020
2X GCH
2022
2X 1st,
ADGA National Show - 4th Place 4 year old
Part of 1st Place Get of Sire

Intermediate Kid ~ 2019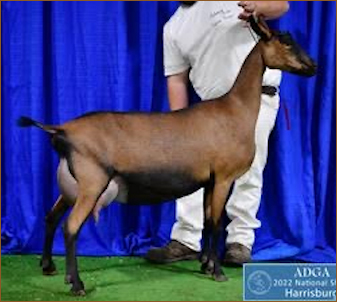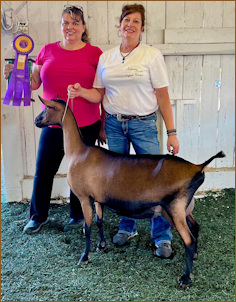 Autumn-Acres Ruby Tuesday
AB2012870 ~ 03/09/19
Bay with correct black markings
SS: Haycreeks Uptown Funk
SIRE: Haycreeks Uptown Savage
SD: SGCH Haycreeks Kane Stradivaria 6*M ~ 89 VEEE
2018 National Champion
DS: Deidrago SKFL Nakomas Kocoum
DAM: CH Autumn-Acres KVB Sweet Ruby
DD: CH Loughlin's Bacardi
Ruby Tuesday is sharp, dairy and angular throughout. She is an upstanding doe kid and walks with a ton of style.

Tuesday has grown extremely tall and is a real head turner! Tuesday freshened with a gorgeous udder well attached both fore and rear. She is an excellent milker like her dam and was quick to finish her first show out. She is so smooth and classy you can't help but notice her! Tuesday was 1st place 2 year old and part of our winning groups at Nationals. We feel she will just get better with age!

Tuesday was 2nd at Nationals and, in my opinion, is the prettiest doe we brought! She was part of all our winning group classes and was even Best Doe in Show this year! We love this doe with her will to milk, show and produce. She is a shining star in our barn!

Linear Appraisal:
Year
Show Record:
2019
1X GCH Jr. Doe, Noble County Dairy Goat Show
2020
1X GCH
2021
ADGA National Show - 1st place 2 year old
1st 2 year old. Res. Sr. & Res. Grand AOP - NAILE
2022
2X 1st, 2X GCH, 1X BDIS, 1X BOB

ADGA National Show - 2nd place 3 year old/1st udder
Part of 1st place Best 3, Sr. Get & Dam & Dtr.


ADGA National Show - 1st place 2 year old - 2021

Intermediate kid ~ 2019

2021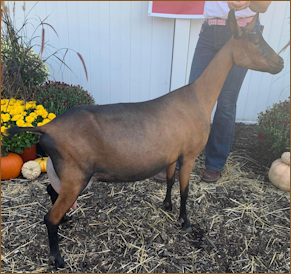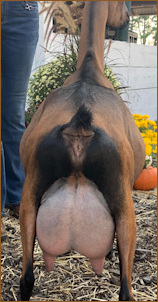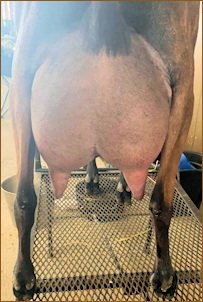 CH (pend) Autumn-Acres OA Miss Addison
AB2085539 ~ 03/07/19
Bay with correct black markings
SS: Deidrago SKFL Nakomas Kocoum
SIRE: Autumn-Acres SK Oakley
SD: CH Haycreeks LED Z Feel of Spring
2016 National Junior Champion
DS: Haycreeks Uptown Savage
DAM: CH Autumn-Acres Acapella
DD: CH Autumn-Acres Cooper Penny
Addison is a stylish and dairy type doe! She excels in the mammary system having a high wide udder with perfect teat placement. She is an excellent milker and has a great personality. We are proud to have her stand first place 2 year old at Nationals and end her season finishing her championship!!

Linear Appraisal:
Year
Show Record:
2020
1X GCH
2022
7X 1st, 1X 2nd, 2X RGCH, 3X GCH
ADGA National Show - 1st Place, 1st udder
2 year old

Intermediate Kid ~ 2020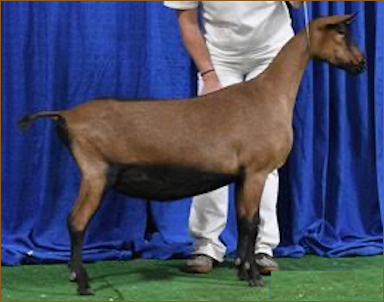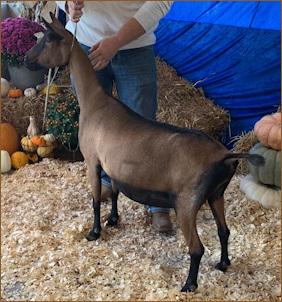 Autumn-Acres AT Aurora
AB2196412 ~ 03/05/19
Bay with correct black markings
SS: Haycreeks Uptown Shock Top
SIRE: Haycreeks Shock Top Turbo
SD: SGCH Haycreeks Solution Tenley 8*M ~ 89 VEEV
DS: Haycreeks Uptown Savage
DAM: CH Autumn-Acres Acapella
DD: CH Autumn-Acres Cooper Penny
Aurora is another pretty Turbo kid! She resembles her dam with her deep body and perfect teat placement. If we were to pick a kid with potential to have an excellent udder, Aurora would be our choice!

Aurora was 11th at Nationals and was part of our winning Jr. Get! She won her champion dry leg and has been a competitive yearling! We feel this udder should be amazing!

Linear Appraisal:
Year
Show Record:
2022
4X 1st, 1X 3rd, 2X RGCH, 3X GCH
ADGA National Show - 11th place Dry Yrlg.
| | |
| --- | --- |
| Intermediate Kid - 2021 | |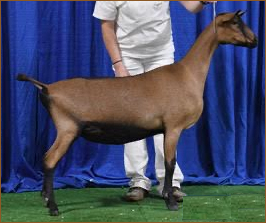 Autumn-Acres Tuesday's Whitney
AB2196418 ~ 03/12/21
Bay with correct black markings
SS: Haycreeks Uptown Shock Top
SIRE: Haycreeks Shock Top Turbo
SD: SGCH Haycreeks Solution Tenley 8*M ~ 89 VEEV
DS: Haycreeks Uptown Savage
DAM: Autumn-Acres Ruby Tuesday
DD: CH Autumn-Acres KVB Sweet Ruby
Whitney reminds us of her dam! She stands out with all her class and style. She has excellent general appearance and a beautiful set of feet and legs. Whitney has also brought home a Best in Show win and we feel this is just the beginning.

Whitney has matured nicely! She was 4th place at Nationals and has had a stellar show record! We are very excited to see her at the next step of her journey!

Linear Appraisal:
Year
Show Record:
2021
1X BJDIS
ADGA National Show - 9th Intermediate Kid
2022
2X 1st, 1X GCH
ADGA National Show - 4th place Dry Yrlg
Part of 1st groups
| | |
| --- | --- |
| Intermediate Kid - 2021 | |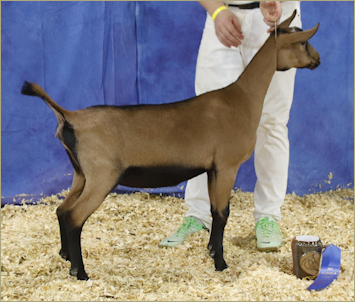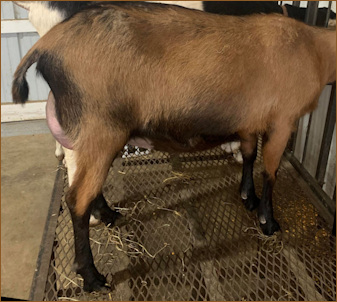 Autumn-Acres Ruby's Risotto
AB2196419 ~ 03/13/21
Bay with correct black markings
SS: Haycreeks Uptown Shock Top
SIRE: Haycreeks Shock Top Turbo
SD: SGCH Haycreeks Solution Tenley 8*M ~ 89 VEEV
DS: Deidrago SKFL Nakomas Kocoum
DAM: CH Autumn-Acres KVB Sweet Ruby
DD: CH Loughlin's Bacardi
Roulette and Risotto are everything we want to see in our Ober kids. They are long, level and stand on excellent feet and legs. Risotto was 1st place Intermediate kid at Nationals. She is a little more extreme and powerful than her sister. Roulette is a little more feminine and a shade darker in color. She was Best in Show her first time show and was 4th Intermediate kid at Nationals.

Risotto freshened this spring with a pretty attached mammary system and has matured into a beautiful doe. Our plans were to bring her to Nationals but she went uneven so we decided to wait until next year to show her so she could repair without stressing her udder.

Linear Appraisal:
Year
Show Record:
2021
ADGA National Show - 1st Intermediate KId
1st Int. Kid & Jr. Champion AOP - NAILE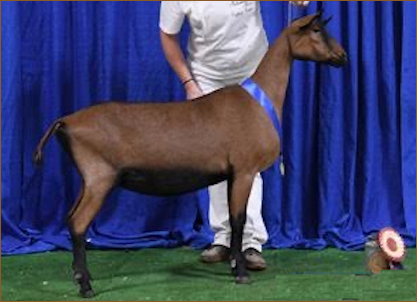 Autumn-Acres Ruby's Roulette
AB2196422 ~ 03/13/21
Dark bay with correct black markings
SS: Haycreeks Uptown Shock Top
SIRE: Haycreeks Shock Top Turbo
SD: SGCH Haycreeks Solution Tenley 8*M ~ 89 VEEV
DS: Deidrago SKFL Nakomas Kocoum
DAM: CH Autumn-Acres KVB Sweet Ruby
DD: CH Loughlin's Bacardi
Roulette and Risotto are everything we want to see in our Ober kids. They are long, level and stand on excellent feet and legs. Risotto was 1st place Intermediate kid at Nationals. She is a little more extreme and powerful than her sister. Roulette is a little more feminine and a shade darker in color. She was Best in Show her first time show and was 4th Intermediate kid at Nationals.

Roulette started the season going Best in Show and then was named Reserve Jr. National Ober Champion! We think this one is a beauty and has more marks to make in the show ring.

Linear Appraisal:
Year
Show Record:
2021
1X BJDIS
ADGA National Show - 4th Intermediate KId
2022
ADGA National Show - 2nd place Sr. Yearling
Reserve National Junior Champion
Part of 1st place Jr. Best 3 and Jr. Get
2X 1st, 1X GCH, 1X BDIS
| | |
| --- | --- |
| Intermediate Kid - 2021 | |

~ Recorded Grades ~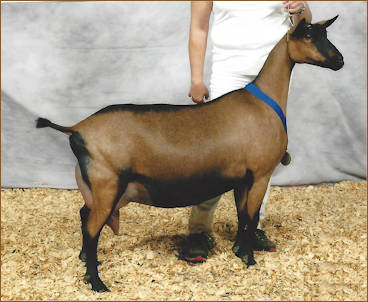 CH Mortgage-Hill PP Punky
E1589625 ~ 03/03/12
2-03 88 VVVE
2016 National Rec. Grade Reserve Grand Champion

SS: *B Brackett's Sunburst Sinful
SIRE: *B Body-Shops SG Pumpernickel
SD: SGCH Brackett's Sunburst Gretal 12*M ~ 91 EEEE
DS: Merry-Menagerie CBS Bogart
DAM: Seau A Lait Penelope
DD: SG Seau A Lait CC Caledonia ~ 91 EEEE
Punky has been our stay at home money maker this spring. We could have taken her out but after choosing not to attend this year's Nationals, we decided to keep her home to put into the tank and take her out in 2018 hopefully for a National Show!

Still youthful at 10!!

Linear Appraisal:
Year
Show Record:
2012
1X GCH Jr. Doe, 3X RGCH Jr. Doe
2-03 88 VVVE
2014
3X GCH Sr. Doe, 7X RGCH Sr. Doe
1X Best of breed
ADGA National Show:
1st place Rec. Grade 2 year old
2015
4X GCH Sr. Doe, 3X RGCH Sr. Doe
2016
5X Best of Breed
2X RGCH Sr. Doe
ADGA National Show:
1st place Rec. Grade 4 year old
National Res. Grand Champion

2014

2014 ADGA National Show


CH Autumn-Acres Cover Girl, 2021 National Champion Oberhasli


2022 Oberhasli Champion Line-Up - ADGA National Show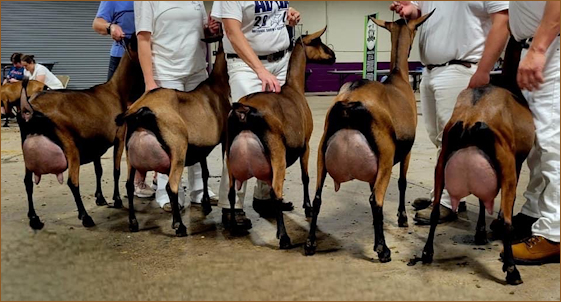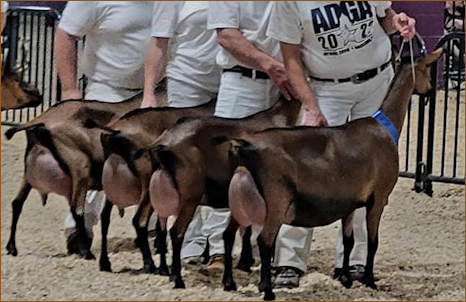 2022 - Our string of Oberhasli does at the ADGA National Show & 2022 1st Place Dairy Herd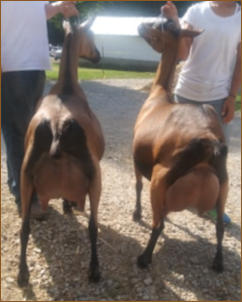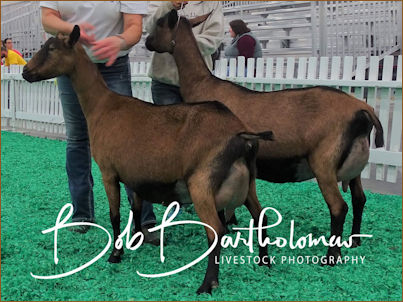 2019 - Ruby and Bacardi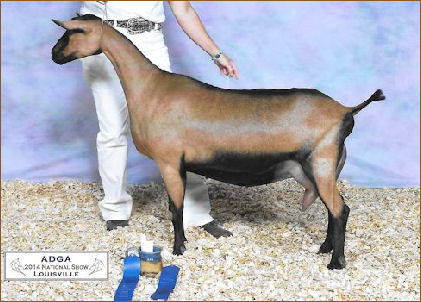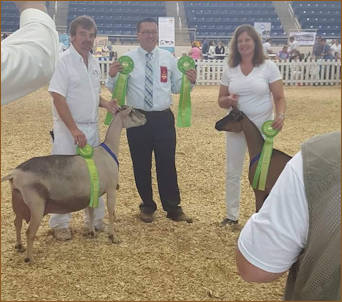 Mortgage Hill PP Punky 2014 & 2016
2016 Res. National Grand Champion Recorded Grade

Home

LaMancha Senior Does

LaMancha Yearlings

LaMancha Junior Does
Alpine Senior Does

Alpine Junior Does

Oberhasli Senior Does

Oberhasli Junior Does
Herdsires

Reference Does

Reference Bucks

Kidding Chart

For Sale

Contact Us
All information and photos on this site are © Autumn-Acres Dairy Goats 2015-2021
Website designed and maintained by Sunflower Web Design
Webhosting provided by Firebug Studios
Page last updated 10/21/2022